The 2021 Guide to Modern Marketing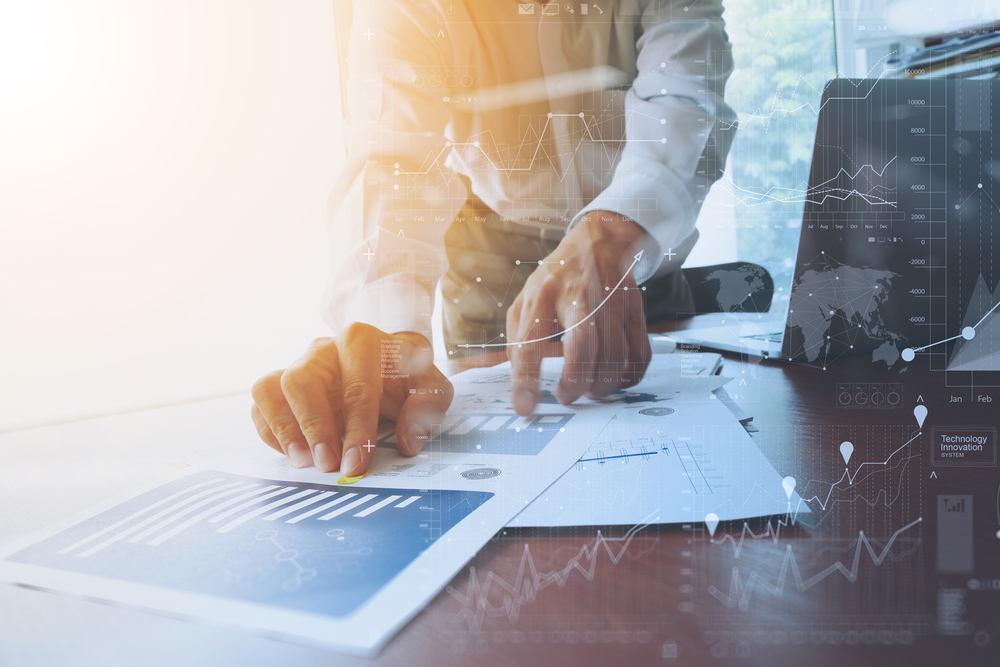 As if an exit from the European Union wasn't enough for UK businesses to contend with last year, the global pandemic saw them scrambling to stay afloat.
An avalanche of legal, logistical and social disruptions lead to stagnation across practically every sector, with seven out of 10 UK firms making use of the government's furlough scheme1. In 2020, 92% of B2C business reported delaying or re-evaluating their marketing budgets, while the same was true for 86% of B2B organisations2.Although evidence of a future return to stability is emerging, we're certainly not out of the woods yet. Several economists predict that the UK economy will not return to pre-pandemic size until 20233. Recent world events have revealed how vulnerable even the most established businesses can be when faced with unanticipated developments.
This period of upheaval has highlighted the need for businesses to better respond to fast-changing customer requirements. Businesses must modernise their marketing approach if they wish to remain resilient, competitive and profitable in the months and years ahead.
Modern Marketing | What Does it Look Like in 2021?
The core principles of marketing — customer-centricity and unique value propositions — remain the same. But in many ways, marketing has evolved, with its true potential largely untapped and unacknowledged.
Education
In days gone by, accurately measuring marketing outcomes was a challenge. Whilst marketing has always been guided by the principle of offering value to the customer, securing data that could paint a precise picture of customers' needs was difficult. Even harder was proving a direct link between marketing activity and customer satisfaction.
Marketing has consequently garnered a somewhat dubious reputation, with C-level scepticism about its efficacy a common challenge for marketers.
Today, however, we have the ability to gain deep insights that can dramatically influence both the products and services on offer, and the way they are communicated (more on that when we discuss data).
Just like finance, sales, and recruitment, the marketing department's performance can and should be measured effectively against set KPIs. When leaders understand the link between good marketing and growth, they can begin to set greater expectations around marketing ROI.
This year, business leaders should evaluate their understanding of modern marketing principles and seek to build an appreciation of new approaches waiting to be embraced.
Integration
In marketing, we often talk about taking an 'integrated approach'. But what does that really mean?
Whether they are business clients or everyday consumers, customers now seek to buy from companies that can provide them with easy, enjoyable and seamless experiences. They have far less patience for an inconsistent service or product, and see refined processes as a core element of a business' value proposition.
As a result, a lined-up approach to marketing is now more important than ever. To ensure accuracy and consistency, marketing teams will need to closely align their activity with that of sales, finance and other departments within their organisation.
Given their proximity to the customer, marketing teams should play a larger role in the development and delivery of their organisations' business strategies.
Better working structures
In 2021, we expect to see more companies re-assessing their internal work structures and questioning whether they are conducive to commercial success.
Often, internal departments must compete for resources, creating a tension between teams who work in competition rather than in collaboration with one another. As one commentator puts it, "…organizations naturally fragment as they grow, pulling people apart into silos and creating functional borders that can set rivalry in motion4."
Likewise, external partners including marketing, PR and communications agencies often feel it necessary to compete with one another for a bigger slice of the pie.
If internal reward systems discourage collaboration, then stakeholders quite simply will not work together in a way that prioritises the needs of the business.
To facilitate better collaboration in 2021 and beyond, organisations can set expectations around collaboration for both internal and external partners, where evidence of successful teamwork-based outcomes must be provided.
Working secretively, failing to share knowledge and insights, and prioritising competition at the cost of the company's wider objectives all need to be stamped out this year.
Data-driven strategies
Data is a key driver in modern marketing. Data collection is hardly a novel part of the marketing process, but all too often, collection is the extent of marketing departments' capabilities.
Today, marketers have a wealth of valuable data at their disposal. In 2021, understanding how to analyse and interpret data is crucial, not only as a means to assess past performance, but increasingly, to make informed predictions about future performance.
As analysis tools increase in sophistication, they can be used to model behaviours based on specific marketing actions. For instance, Google Analytics' most recent update, GA4, uses machine learning to provide predictive metrics and integrates across devices to build a better understanding of customer interactions with brands online5.
Data analysis expertise will be key to the success of modern marketing initiatives, and prioritisation should be given to up-skilling marketing employees or sourcing external support.
Communicating value
Having a great product or service is one thing, but communicating it in a way that chimes with prospective customers is an entirely different matter.
For most, simply having the lowest price will not be enough. Companies will need to communicate the unique benefits that products and services bring to their customers, and how their specific needs will be met.
An intimate knowledge of the customer is necessary to communicate effectively, but so too is a deep understanding of the competition.
Lower budgets and customers' increasing access to information about the options available to them will make product differentiation an even more important requirement in the near future.
Modern marketing: be brave
Settling for 'good enough' won't cut it this year. To navigate the unpredictable times ahead, businesses must have the confidence to act according to what the data shows, even if this means making major changes to usual marketing activities.
Although longer-established forms of marketing still have the capacity to secure results, a modern marketing approach is required to help businesses grow, not just maintain the status quo.
If 2020 has shown us anything, it's that the only thing we can be certain of is change. By investing in modern marketing now, businesses stand to thrive instead of falter during future periods of uncertainty.
What next?
Want to grow with modern marketing? Get in touch with the Moment team to learn how we can support your organisation.
---
Sources